I was 14 years old when my dad took me to my first Mopar Nationals. Growing up, we went to lots of car shows and visited local tracks, but when we walked into Indianapolis Raceway Park in August of 1993, I had never been to such a massive event. After entering the track, we made our way towards a place to sit in the grandstands, pausing trackside as two of the most unusual vehicles I had ever seen pulled to the starting line.
One was the Lil Red Wagon Dodge A-100, piloted by Bill Maverick Golden, and the other was the Hurst Hemi Under Glass Plymouth Barracuda, driven by Bob Riggle. If you are reading this, the odds are good that you are familiar with what exactly makes those two vehicles special, but having never seen them before back then, I could not believe what I saw. The Barracuda and A-100 left the starting line side-by-side, wheels high in the air, rear ends literally scraping the ground as they barreled down the track. The roar of the supercharged Hemi engines coupled with the insane spectacle of vehicles running well into the 10-second range on their rear tires was the most amazing thing that I had ever seen in the automotive world.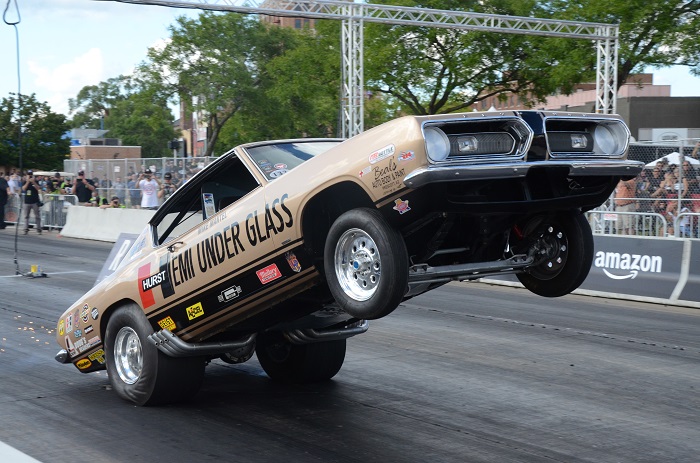 Even though we had just gotten to our seats, I wanted to go to the racer pits area and find the Hemi Under Glass Barracuda, so my dad and I waded through the crowd of cars and haulers until we found Bob Riggle's pit area. He had the car opened up, giving everyone the best possible look at the unique rear-mounted Hemi engine setup. I am sure that I took a ton of pictures with my little 35mm camera, but I have no idea where those pictures are today. However, seeing that rear-wheel-run between Riggle and Golden ignited an interest in drag racing and Mopar muscle that would not fade. Less than a year later, I bought my 1983 Dodge Mirada (before I was old enough to drive) and in 1995, my dad found me a budget-friendly 340 to replace the tired 318, so when the 1996 Mopar Nationals opened at Indianapolis Raceway Park, I was one of the racers in the pits – and I would be (with that Mirada) – up until 2010 or so. Over all of those years, I saw both Riggle and Golden run their wheelstanders many times, and it never got old.
As time went on, I was fortunate enough to build a writing career around my passion for Mopar performance cars and racing. When I think about a moment in my young life where everything kind of clicked – where the whole automotive culture really began to bury itself in my brain – it was that first time seeing Bob Riggle storm down the track in his Hurst Hemi Under Glass Plymouth Barracuda. Prior to that, I liked seeing cool old cars at shows and hearing them tear down the street, but that trip to the Mopar Nationals and the experience of seeing those two legendary wheelstanders in action was the point at which I knew that I wanted to be a part of this culture.
In recent years, I got to meet and speak with Bob Riggle during 2022 Mopars at the Strip in Las Vegas, where I told him how seeing him 30 years earlier had essentially led to my career. At the 2023 Roadkill Nights Powered by Dodge, I watched Mike Mantell (the man who took over the job of driving after Riggle retired) do a wheelstand on Woodward Avenue. For that run, I was an approved photographer, so I was at the starting line, literally two feet from the front wheels and when they jumped off of the pavement as the car roared down the street-based track. The pictures here and video below are from that recent appearance at Roadkill Nights.
I found out this morning that Bob Riggle passed away on Tuesday, September 8th, 2023. Fellow wheelstander Rick Ream shared on Facebook that he had spoke with Bob's son, Jimmy, who confirmed the unfortunate news.
It is always hard to hear about a legendary racer passing away, but this one hit me harder than most, as he was a person who was unknowingly responsible for shaping my life. Had I not seen Riggle run the Hemi Under Glass car in Indy that day, perhaps I would have still become the Mopar-driving horsepower junkie that I am today, but in my mind, Riggle's Barracuda will always be the car that made it clear to me that I wanted to be a part of the Mopar racing world.
Rest in peace, Mr. Riggle. You inspired the majority of my professional life by simply doing what you loved, and I am sure that there are plenty others like me, whose passion for the Mopar racing world started by seeing the Hurst Hemi Under Glass Barracuda in action.