A new pickup truck is coming to Ram, but don't look for it this winter. The new pickup will almost certainly be a new design, and will not be based on the Rampage sold in South America which was described at Stellpower.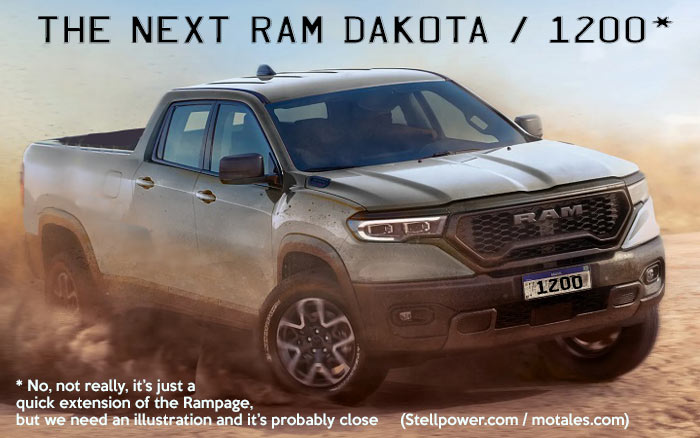 The Ram 1200 and Fiat Fullback were both based on the Mitsubishi L200  pickup; the Ram name is a pun (use a lower-case L and you see l200, which looks like 1200). The L200, 1200, and Fullback were sold only with four-cylinder engines; and it was a body-on-frame design, not unibody. Still, most rumors peg the new truck as being on the STLA Large platform. Any rumors based on the factory itself are likely to be wrong, since the body-on-frame Ram 1500 is made at the Sterling Heights plant which used to build unibody cars.
Peugeot has a midsized truck already; it's made in a joint venture with a Chinese company but is not for sale in Europe, the US, or Canada. The  gasoline engine is a turbocharged 2.4 liter boasting 210 hp; but 0-60 mph takes a leisurely 11 to 13 seconds.
The Rampage is too small to fit the bill. It's over a foot shorter, bumper to bumper, than the Ford Ranger or the top seller, the Toyota Tacoma, and capability isn't where it needs to be. The Rampage could still come to the United States, but it would almost certainly be made in Mexico.
What we do know about the new pickup is that it will be sold in battery, range-extender, and gasoline forms in the US and Canada. It is likely to be sold globally (though not made in the US for export) with small diesels or smaller gasoline engines. The most likely power for the pickup would be four-cylinder turbos, with a possible hybrid setup. It would probably be a global replacement for FCA's L200 variants, but heavily customized for different regions.
The above image comes from OpenAI when asked to render a 2024 Ram Dakota based on the 1994 models. 
Ram has only budgeted for 80,000-100,000 trucks per year, which is likely a realistic view of the crowded market, which has better-known trucks such as Tacoma, Ranger, and Colorado.
The wait for this truck is quite long: the union agreement calls for it to start production in 2027. That's over three years from now, a long time for a vehicle that's allegedly been in development. On the lighter side, it's unlikely to be a warmed-over Gladiator, since that's not due for a refresh until 2028 at the earliest.