During the Street Car Takeover event in Bradenton, Florida on February 25th, Jody Otwell's Ram 1500 TRX ran a 9.99 in the quarter mile, just one hundredth of a second behind the world record for a boost only (no nitrous oxide). After that 9-second pass, he knew that with the recent tuning help of Tim Barth, he could brake the record. On Saturday the 26th, he started the day at the track with a 10.05 and on the next run, a 9.97 reset the Ram 1500 TRX boost-only quarter mile record. On his next and final run of the day, Otwell ran a 9.758 at 133.54, smashing the record that he had set earlier in the day.
After seeing a video of this run on social media, I reached out to Otwell for more information on his Ram 1500 TRX and his record-setting runs.
Whipple Blown, Twin Turbo TRX

Jody Otwell's Ram 1500 TRX is topped by a 3.0-liter Whipple supercharger that works in cooperation with a Comp Turbos twin turbocharger setup. The fuel system features a Fore Innovations triple fuel pump system and a set of FIC 2150 fuel injectors. The only other engine upgrades are NGK spark plugs, a 180-degree thermostat and a pinned crank. Helping put the power to the ground is a set of Bogart wheels wrapped in Hoosier 325-45-18 drag radials.
Otwell has been racing this truck for about 10 months and for some time, his best ETs were in the 10.90s. Once he began working with Tim Barth, he got some tuning issues from another shop ironed out and that led to major improvements in his quarter mile times. At the Legion of Demons event earlier this year, he ran a new personal best of 10.3, but when he headed to Bradenton for the Street Car Takeover event in February, he was hoping for great density altitude numbers.
Unfortunately, it was hot in Florida, with temperatures in the 80s and 90s, but he still managed to get well into the 9s to break the boost-only TRX record. With that in mind, Otwell believes that with some good air, this truck will go further into the 9s without any component changes.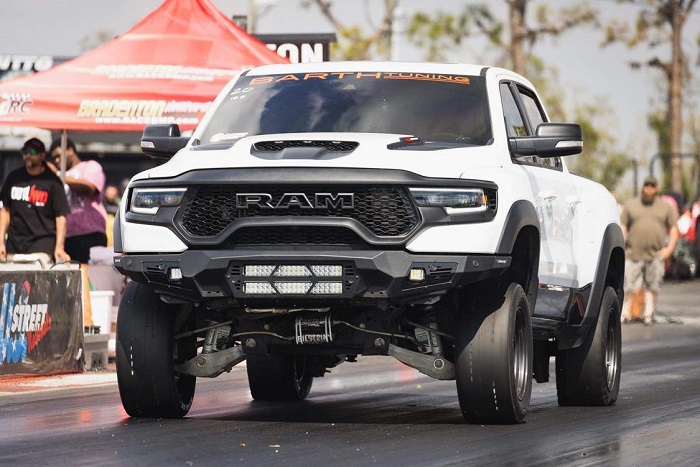 The reason that we mention the fact that he is likely to go faster – and the reason why we specify boost only, is that there is one TRX that has run a quicker quarter mile time. Billy Weber's Ram 1500 ran a 9.594 at 140.33 miles per hour back in late 2021 with a hefty shot of nitrous oxide, making it the quickest TRX in the world. However, Weber's truck has been returned to stock, so he won't be resetting the record any time soon. With Otwell being only 0.164 behind Weber, and getting that close in high temperatures, there is a good chance that the white Ram shown here could make a real run at the overall TRX quarter mile record.
It should be noted that in addition to drag racing this Ram 1500 TRX, Jody Otwell also plays off-road with it, so he is truly using this half-ton beast to the fullest of its capabilities. Because of that, while he plans to continue working to improve his ETs, he wants to maintain the full interior, air condition and all of the safety features, as he also drives it on the street.