Earlier this month, we brought you the news of the first Ram 1500 TRX in the 9-second range, owned and driven by Billy Weber. Weber and his record-setting half-ton were back at the track this past weekend and with cooler air came better times. When Weber first ran in the 9s, with a 9.90 at 136 miles per hour, we speculated that he could get down into the 9.70s in better air, but our estimates were a bit too conservative.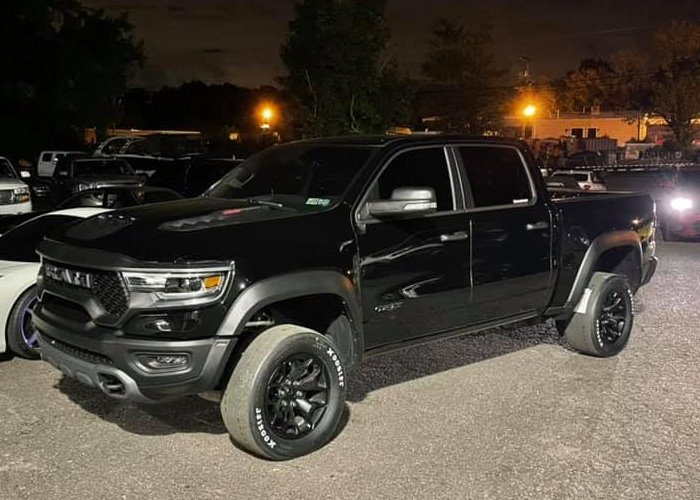 Thanks to the cooler air and a larger shot of nitrous oxide, Weber and his Ram TRX skipped the 9.70s and jumped right down into the 9.50s with a trap speed of 140 miles per hour. Keep in mind, this is a daily driven truck with only a handful of basic upgrades, a good tune and some simple weight reduction, and it is running in the mid-9s in the quarter mile.
The TRX is truly an amazing machine in stock form, but there is no question that the supercharged Ram 1500 takes to performance upgrades better than any truck that has ever graced American roads.
World's Quickest Ram TRX
When Billy Weber and his 2021 Ram 1500 TRX first got into the 9-second range, it did so with the following modifications.
-Factory 2.4-liter IHI supercharger snout ported by Kong Performance
-108-millimeter Kong Performance throttle body
-2.65-inch upper pulley
-10% lower pulley
-ID1700 fuel injectors
-Custom cold air intake
-180-degree thermostat,
-Nitrous oxide system with a 150 shot
-Hoosier drag radial tires on 18inch wheels
-Underbody skid plates and running boards removed, full interior
With these modifications, the whole system was tuned to run on an E85 ethanol blend by Meesh-Tuned and the modifications were performed by Labworx.The only change since the 9.90 run was that the nitrous system has been upgraded to a 250-horsepower shot, but the results show that the extra power made a huge difference.
Running 9.50s
This past weekend, Weber and his TRX headed to Cecil County Dragway to make the most of the cool air and low density altitude levels. On his first run down the track, he made his quickest pass of the day, setting the bar very high for other TRX racers.
With a 1.486 60-foot time and a 6.152 8th mile (at 114.8), Weber's TRX stopped the timers on the big end with a 9.594 at 140.33 miles per hour. No other Ram TRX has gone anywhere close to 9.50s or 140, so Weber's truck is the undisputed quickest and fastest factory Hellcat-powered truck in the world.