Concept cars are shown for a variety of reasons—to test new functional ideas, to test looks, and to show that the company is working on new technologies. Past Chrysler concept cars have run the gamut from pre-production models to thoughts about what they might make in 20 years, and often the main idea being tested are quite different from what people think is being tested.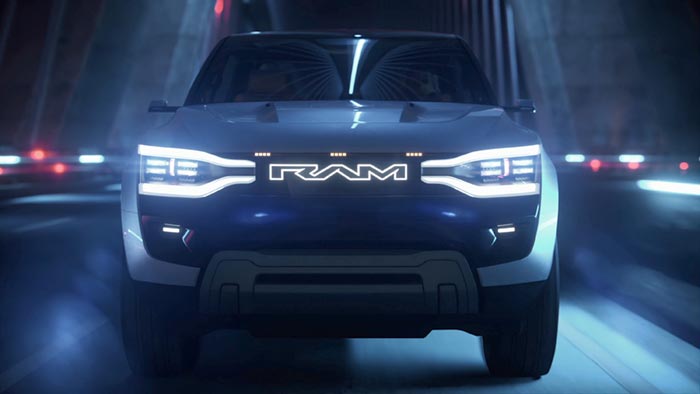 Which brings us to the 2023 Ram 1500 Revolution BEV Concept. What exactly are they testing? We have a number of options, including the styling, the design, the technologies, and the powertrain. If you get impatient, just scroll down—we know truck people want to know about towing, hauling, and range, and some people just want to know about tech, and others want to learn about STLA Large.
To answer the question: yes, this is a real work truck, though it doesn't look like it. The bed looks small, but appearances can deceive; it's apparently the same length as the current Ram pickup bed.
The technologies
The feature that may have gotten the most attention and headlines is "follow me," basically, where the driver can walk around with the truck following (and avoiding obstacles and people along the way), handy in construction sites, or for cleaning up debris, or perhaps for trying to follow the trail of Old West bank robbers. This is a clever variation on Tesla's snazzy parking-lot "come out for me" tool, but presumably uses both cameras and radar to avoid hitting anything.
The rear view mirror includes a smart backup camera with 360-degree views (in Reverse), speakers, and receivers compatible with Alexa and Siri.  The mirror also includes a backup flood lamp in Reverse for low light conditions; and communicates with biometric cameras that observe the truck's environment as it approaches objects and as it's being approached.
The steering wheel has a flat top and bottom and is collapsible, with enhanced hand grips, capacitive controls, digital screens, and a lit "RAM" badge. Occupants can use tactile swiping to configure the sun visors or the electro-chromatic roof.
The adjustable air suspension has ingress/egress, aero, and off-road modes (from lowest to highest).

Other technological gizmos include:
Intelligent storage app – helps people see if they can fit things into the truck, using the product's barcode or a camera-based tool; and shows how it can be positioned most effectively
Exterior projector – built-in projectors visually communicate information to the user and can double as a mobile movie theatre
Cabin Mode – "One button" settings to adjust multiple aspects of the cabin experience at once— Productivity Mode, Social Mode, Party Mode, Relax Mode, and user-created modes—changing interior lighting, seat position, window and skylight opacity, suspension, sound, and displays
Advanced Augmented Reality Heads-up Display – combines cameras, sensors, and AI with "see-through vision," projecting objects outside the driver's normal view on the head-up display along with the usual information
Personal Assistant – AI-powered virtual assistant with a 3D Ram avatar that answers voice commands, even from outside (such as close the windows, play music, take a picture, and "follow me")
My Day – Intelligent trip planning to provide suggestions at right time and place
Smart Home Control – control smart home devices from the screen
Camera and sensor system – cameras and sensors works together to provide 3D capture, biometric identity recognition, and 360° photo and video capture
Autonomous capabilities – In Level 3+ autonomous mode the vehicle retracts the steering wheel to provide additional space for the driver. Interior lights, the head up display, smart seats, and the steering wheel work together to provide next-level situational awareness to the driver (it seems very unlikely to be in the 2024 production model)
Powertrain, charging, all wheel steering
The Ram 1500 Revolution BEV Concept has all wheel drive, powered by two electric drive module (EDMs), on in front and one in rear. It can take larger-capacity EDMs, but the concept is currently set up with—an unreleased amount of power. It does have 800V DC fast charging up to 350 kW, allowing 100 miles of range to be added in around 10 minutes. So far no information on the concept's range, acceleration, towing capacity, etc. has been released; STLA Frame was reportedly going to have battery packs with 159 to 200 kWh capacities.
The new and cleverly named Ram Charger takes cues from robotic vacuums to sneak underneath the vehicle when the truck is detected, align itself, and start charging; it can be programmed to only charge during off-peak hours for greater economy.
The four wheel steering allows for up to 15° of articulation for better cornering at low speed, e.g. for parking or tight trails. It also increases steering response at high speeds.
The charge port blinks while charging. An audible sound will signal it is plugged in and charging has begun. The charge port features level 1 and level 2 AC charging on the top half and DC fast charging on the bottom half of the charger.
Styling and design
The Ram 1500 Revolution BEV Concept takes the "midgate" from the 2002 Chevrolet Avalanche and BEV engineering to provide for loads up to 18 feet (5 meters). The midgate in the concept is powered.
The Ram 1500 Revolution BEV Concept attempts to be "brutiful – brutal yet beautiful." An animated Ram badge includes an LED "tuning fork" logo. LED lights are integrated into the front bumper flares, with animated LED tail lamps and badging.
The doors, like those of too many concepts, are "suicide door" style, with the front door opening normally and the rear door opening the other way, to allow for a massive entry space (with no B-pillar). This is unlikely to make it to production. More useful is the integrated fascia with a skid plate and tow hooks that can pivot to sit flush.
The BEV design provides more space for storage; a powered "frunk" (front trunk) has extra weather-and-thief-protected storage, with a one-touch open/close function. The charge port door (on the driver's side front quarter) is also powered, as is the tailgate, the door handles (which is why you don't see them in photos), side steps, and rear step. The latter includes an active diffuser for aerodynamics. Which of these are likely to make it to production? Probably everything but the charge port door, unless they have already designed a manual override.
The side view "mirrors" are basically cameras, allowing them to be quite small; these may not yet be legal in the United States.
The RamBox is larger than in current Rams. A Dodge-like hourglass body design adds some muscle-like styling, while the concept allows for 35-inch tires (the wheels are 24 inches and have caps that light up and stay in place). The suspension has self-leveling capability.
These new proportions are achieved courtesy of the innovative STLA Frame EV platform on which the Ram 1500 Revolution BEV Concept is built. New intelligent safety systems and smaller, more powerful electric motors afforded the design team the ability to shift the cabin forward and increase cabin length. The 1500 Revolution BEV Concept features a cabin that is 102 millimetres (four inches) longer than today's production truck for increased room and comfort while the bed length remains the same.
Interior
The interior is designed as an empty space which can be configured—a "one space environment." The new STLA Frame architecture provides a more spacious interior without changing the bed size. Ram Track, a rail attachment/floor track system, provides tie-downs and flexible seat and consoles; it's also in the frunk and bed. This setup allows for third-row jump seats:
The powered mid-gate features mounted jump seats with a removable lower section for placement in the bed or outside the vehicle. The mid-gate with powered glass enables a pass-through (and into the frunk) that can fit objects up to 5.5 metres (18-ft.) long with the tailgate closed.
The center console can be removed entirely or converted to a workstation surface (an idea now credited to Ford, but originating with the 1994 Ram 1500's oversized center consoles). The seats are light weight so they can be moved easily, and have integrated seatbelts, grab handles, and speakers; the seats can fold flat, with extended recline, work, and conference modes. The setup can be maximized for limousine-like space or to carry cargo.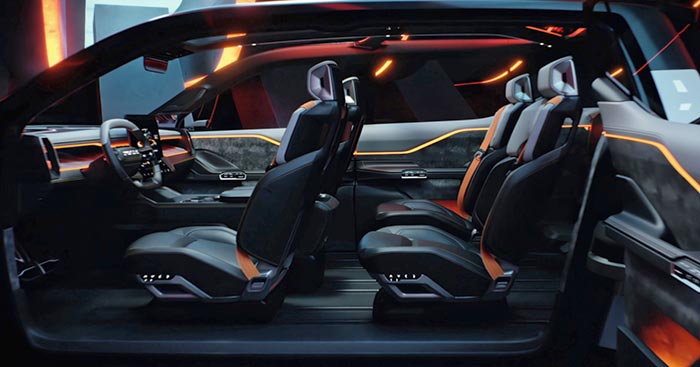 The "tuning fork" design stretches the length of the dashboard and goes on to the mid-gate. A touchscreen display with dual screens provides up to 28 inches of screen space; the lower display has three different positions (minimal view, extended view, and full  view) and can be detached and used in different parts of the truck. The upper screen can slide on the Ram rail attachment system.
Sustainability may not concern most pickup owners, but Ram still used a lightweight, resilient Grayslate Nanostone veneer and "Apple" leather, a bi-product from the apple industry, along with a textured floor composed of recycled rubber and cork particles.
The actual pickup is due in 2024, which may still be early enough to beat Tesla's "Cybertruck." Ford already has an electric pickup, and Chevrolet has shown its prosaically named Silverado BEV; Rivian is slowly producing critically acclaimed electric pickups (the R1T), and others are on the way.  The chief engineer of Ram, Mike Koval, told Automotive News that the production model would be shown "in the next couple of months." The concept, in contrast, is a "visionary road map."
Other sites' takes: Ars Technica • Automotive News