We have gotten tons of questions about the Build and Price feature on Dodge.com for the 2023 models – particularly the Challenger and Charger. Seeing as how 2023 is the final model year for this generation of the two modern muscle cars, it makes sense that enthusiasts want to do some high tech window shopping online. However, as we near the end of the first month of 2023, the Challenger and Charger still do not have an option to Build and Price the 2023 models. That has led a great many people to assume that the brand will not bother, due mainly to the unique Last Call allocation process being conducted on Dodge Garage, but we have learned that is not the case.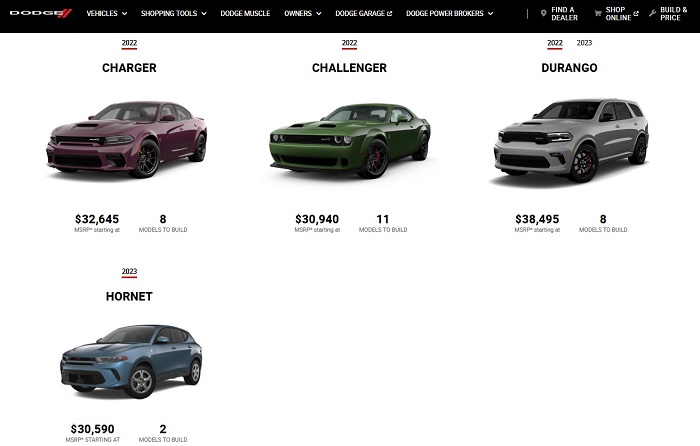 We have confirmed that the brand does plan to have the Build and Price feature live on Dodge.com for the 2023 Challenger and Charger, but they do not have an exact date. Based on our discussion with a few people within the company, we expect to see the feature up and running for the entire 2023 model year within the next month or so, but that is not official.
Fortunately, while you cannot build your ideal 2023 Dodge Challenger or Charger yet, you can build a 2023 Durango and the new 2023 Hornet.
The most exciting aspect of the 2023 Durango Build and Price feature is the return of the 710-horsepower SRT Hellcat package. Dodge is taking a slightly different approach this year, so the Durango SRT Hellcat is broken up into three trim levels in the Build and Price tool – SRT Hellcat, SRT Hellcat Plus and SRT Hellcat Premium – with the biggest difference between the three being the level of interior luxury.
As for the new Dodge Hornet, it is currently only available in GT and GT Plus trim, both of which come standard with the turbocharged 2.0-liter four cylinder engine and a 9-speed automatic transmission. The higher performance hybrid R/T models will be released later on and, with any luck, we will see a production version of the GLH concept from the debut last year.