I recently had the extreme pleasure of spending a week with a 2021 Ram 1500 TRX in my driveway. I was also invited to the media testing program late last year, where we spent much of the day rocketing around an off-road race course. It was one of the most exciting drive programs that I had ever attended, as not only did we get to push these 702-horsepower half-ton trucks to their limits in the dirt – we got to jump them. I'm not talking about a little hop over a creek to impress middle school kids on YouTube. We got big air time with these trucks and since we were exercising the TRX in a proper setting, we didn't have any issues with the trucks sustaining damage. For hours on end, these trucks were brutally punished in the Nevada desert without so much as a hint of a struggle, leaving no question that the Hellcat-powered Ram 1500 is the most capable off-road performance truck ever.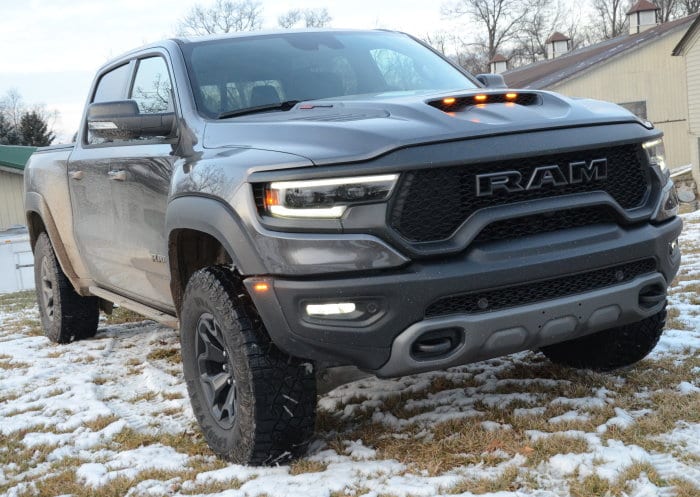 However, most people who buy a Ram 1500 TRX will be doing more driving on paved roads than on jump-happy race tracks. As much as I loved cruising around California and Nevada before hitting the track at the first drive event, I was curious to see how well the TRX performs as a daily driver. Not surprisingly, it is just as good for the everyday drive as it is at everything else, leaving no question that the TRX is the best half-ton truck ever.
Now, I understand fully that some people who buy a Ram TRX will only use it as a toy, so things like daily driving comforts, fuel economy and the ability to pull a trailer won't matter to everyone. However, for those who plan to drive these trucks every day, using them as trucks were intended to be used, this review should answer all of your questions. If there is a question that goes unanswered, ask in the comment section and I will do my best to provide the information.
The problem is that when I began to write this thorough review, offering detail on aspects that other reviews have not, the piece quickly got very long. When reviews get too long, people simply don't read them. With that in mind, rather than having one long review that talks about everything, we will break it up into shorter pieces that focus on specific areas. For example, if you don't care about fuel economy, you won't have to read that piece, but for those who do care, I will go into detail on my fuel economy testing and results. Other portions of the series review will look at real world performance results, the interior, the incredible infotainment system, a thorough towing test with thoroughbred race horses and other general observations from my time with the greatest half-ton truck ever.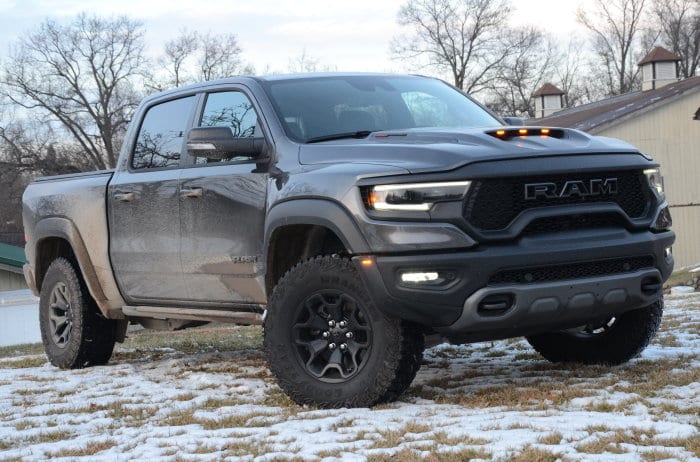 Yes, this is the greatest half-ton truck ever, based on the sum of its parts. It isn't the strongest-towing truck in the class, but it pulled my standard two-horse test trailer beautifully. It has a luxury level interior with premium features that you can't get in any other half-ton truck, it has loads of space and best of all – it is a hell of a lot quicker than the folks at Ram claim. It also gets better fuel economy than some of the early reports in my highway testing, so those buyers worried about getting 7 miles per gallon don't need to worry as much, based on my time with the TRX.
So, in the coming days, I will publish shorter "chapters" of sorts, taking a detailed look at everything there is to enjoy with the 2021 Ram 1500 TRX. For now, I will leave you with the only perceivable downside for a high performance pickup.
It is big. Really big.
If you ordered one, you likely know that, but it is the biggest half-ton truck on the road. It is kind of tight in most public parking spots, but only slightly more than a "normal" half-ton Ram. I speak from experience, as in the winter, my daily driver is a Ram 1500. The TRX is noticeably bigger, but if you are accustomed to the size of a modern half-ton pickup with a long cab, this truck isn't going to be that different for you. Yes, it is wider than other current Ram 1500s, but the reports that it feels massive on the road are exaggerated, in my opinion. Having driven it back-to-back with the modern Raptor, I do not believe that the TRX feels bigger than the Raptor during normal road drives. That includes country roads and the open highway, with both trucks.
In my off-road experiences with the Ram 1500 TRX, it never felt encumbered by the exterior dimensions, but we were out in the desert with plenty of open land. If you spend a great deal of time off-roading in tight spaces, this isn't the ideal truck for you, but in every other on- and off-road situation, the TRX carries itself similarly to the other modern half-ton four-wheel-drive trucks.
If the size doesn't bother you, there is nothing to dislike about the 2021 Ram 1500 TRX and in the coming days, I will bring you an in-depth look at my week living with the Hellcat-powered Ram truck. My next installment will look at real world fuel economy, including the MPGs of the supercharged beast when it is pulling a horse trailer.