This past weekend, the Holley Moparty – one of the largest all-Mopar show and racing events in the world – was held at Beechbend Raceway Park in Kentucky. Rainy weather brought an early end to the drag racing program, but that didn't stop James Golden and his F8 Green Dodge Challenger SRT Hellcat Redeye from resetting the record for the quickest quarter mile time by a Redeye car.
Golden previously set the bar for the world's quickest Dodge Challenger SRT Hellcat Redeye at the Modern Street Hemi Shootout HEMI'sanity event in Michigan back in August, running an 8.33 at 164.47 miles per hour. This past weekend, he smashed that number, laying down an 8.18 at 168.26 miles per hour. That is the quickest and fastest quarter mile time by any Dodge Redeye car – be it Challenger or Charger.
Redeye Racing Dodge Challenger
This F8 Green Dodge Challenger began its life as your average, 797-horsepower muscle car, but owner and driver James Golden has added gobs more power, along with the other modifications needed to safely make use of all of that power.
The size of this Challenger Redeye's engine has been increased from 6.2 liters to 7.0 liters and the supercharger has been replaced with a pair of 79-millimeter Garrett turbochargers. With billet Winburg crankshaft, billet Callies connecting rods, Ross pistons, ThiTek cylinder heads, a custom Comp Cams camshaft and a custom Hogan intake manifold, this Dodge muscle car makes somewhere in the area of 1,800 horsepower.
Helping to put all of that power to the ground is Rossler 3 speed turbo 400, a carbon fiber Driveshaft Shop driveshaft, a Strange rear differential with a 3.50 Detroit TrueTrac setup and Driveshaft Shop axles, Menscer suspension components, Weld wheels and Mickey Thompson tires.
Breaking Records at the Holley Moparty
Unfortunately, James Golden and his Dodge Challenger SRT Hellcat Redeye lost in the first round of the Outlaw class in a thrilling 8th-mile battle in which he lost with a 5.40 to his opponent's 5.39, but his most important run came in quarter mile testing prior to eliminations.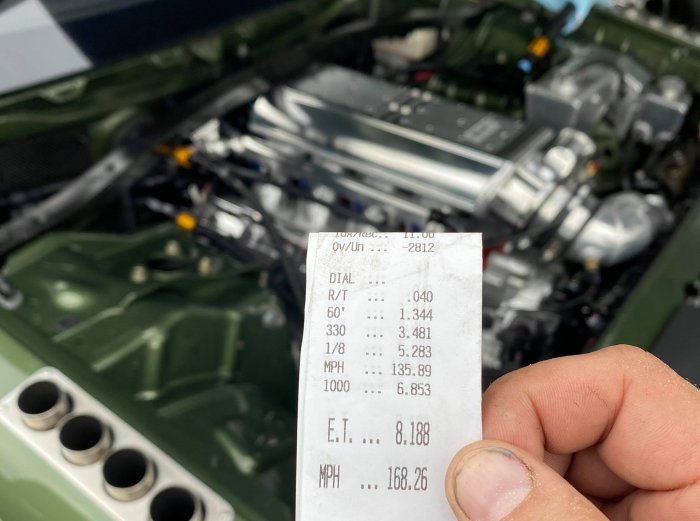 On the run in question, Golden's F8 Green Mopar muscle car got away from the starting line with a 1.344 60-foot time and he got to the 8th mile beams in just 5.28 seconds at 135.89 miles per hour. He reached the 1000-foot mark in 6.853 seconds and on the big end, he stopped the timers with an 8.18 at 168.26 miles per hour. You can watch the new record run below.
Seeing as how Golden's previous personal best of 8.33 was unrivaled by any Dodge Redeye car, his 8.18 is obviously the best quarter mile time run by a Redeye model. If you would like to check out more videos and pictures of Golden's Redeye racing program, click here to visit his Instagram account.