Canoo came to my attention due to a report that Apple had talked with them about making electric vehicles together. Of particular interest to me was their electric minivan.
Like Rivian, Canoo has created a modular platform for making electric vans, cars, and trucks. Like the old body-on-frame cars, which long ago were jettisoned for unibody designs, or body-on-frame trucks, which remain popular, these platforms start out with a basic chassis which includes a powertrain. From there, engineers simply add on whatever body they want; it may have structural importance, but that can be designed in. The advantage is cutting down on parts while making it easier and faster to develop new variations.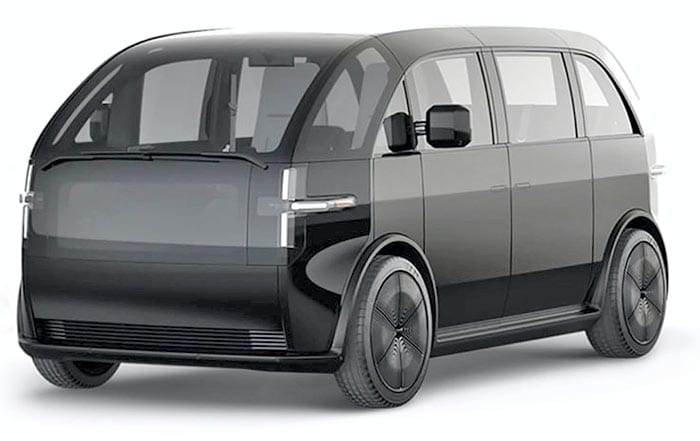 Rivian is probably going to be first out of the box with this new type of electric car, and their most important product is a commercial van for Amazon; that will likely soak up nearly all the vehicles they can make at their Normal, Illinois plant (which used to make Mitsubishis). It's telling, though, that Canoo's first vehicles will be both delivery vans, like Rivian, and electric minivans for ordinary people. (Canoo never did get an investment from Apple; they do have $300 million from Hennessy Capital Acquisition.) Apple went to Hyundai instead; Hyundai itself appears to be working with Canoo on an electric vehicle platform, too.
A rush of electric minivans on the market is not good news for Chrysler, whose Pacifica/Voyager had fewer than 100,000 sales in all of 2020. The entire minivan market has been shrinking quickly, with Toyota, Honda, and Kia all seeing hefty declines in sales for 2020 as well. Chrysler is ending up with fewer opportunities to grab sales from competitors, and now there are new competitors in the race—going after Chrysler's primary unique feature, their PHEV setup.
While some do need gasoline engines to go cross country, many use minivans for local commuting; depending on the prices, Canoo and possibly Rivian entering the fray may hurt. It won't take huge sales to make minivans an unprofitable product. If all the electrics combined only take away one quarter of Pacifica sales, it could end the profitability of Chrysler minivans entirely—unless the company really does make a crossover version (and that version sells well).
On the other hand, perhaps 2020 was simply an outrageously unusual year, and minivans will recover, with interest, in 2021. In that case, a few electrics won't hurt.