Prices of classic collectible muscle cars have climbed a great deal over the past few years. This past weekend, the 1969 Dodge Charger Daytona shown here rolled across the Mecum Indy auction block; when the hammer sounded, this Hemi-powered wing car sold for a whopping $1.32 million – making this F8 Green the most valuable 1969 Daytona ever. No 1969 Daytona had sold for more than a million dollars in the past, but it wasn't just inflation and an absurdly strong sellers' market that led to the big price.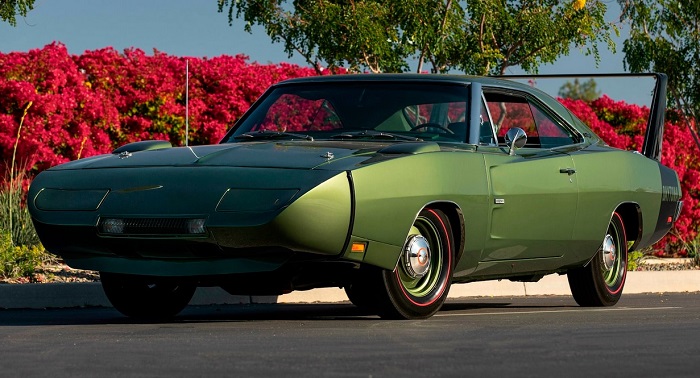 According to the auction listing, this is the most heavily optioned 1969 Dodge Charger Daytona, with the two most crucial options being the 426 cubic inch Hemi and the 4-speed manual transmission. Dodge only built 70 1969 Daytonas with the Hemi, and of those only 22 had the manual transmission, so this car is incredibly rare before getting into the other options.
The A833 manual transmission was included as part of the A34 Super Track Pak, which also added a Dana 60 rear differential with 4.10 gears, power front disc brakes, engine and transmission coolers and engine-specific suspension tuning.
Next, the interior was fully optioned from the factory, including the C6G green vinyl bucket seats with the C55 headrests and the C62 six-way adjustable driver's seat, the C16 center console with a Hurst shifter, a 150mph speedometer with the N85 tachometer, G11 tinted glass, R22 AM/8-track radio, P31 power windows, the S81 wood grain steering wheel, the A01 light group and the G33 remote exterior mirror control. Of course, it is painted F8 Green with a black rear stripe and matching painted wheels.
This was probably one of the most expensive 1969 Dodge Charger Daytonas sold back when these cars were new, so after a complete restoration, it doesn't come as a huge shock that it became the most expensive '69 Daytona in the modern auction scene. You can watch the auction proceedings for this 1969 Daytona in the YouTube video below.