This past weekend, the Street Car Takeover series headed to Bristol Dragway and when the smoke cleared, 16 year old Madi Turley stood in the winner's circle with her Dodge Challenger R/T. While Turley has had strong showings at several events, this is her first big win at a big event like the Street Car Takeover, and she had to beat some serious machines to take home the win in the Women & Wheels class.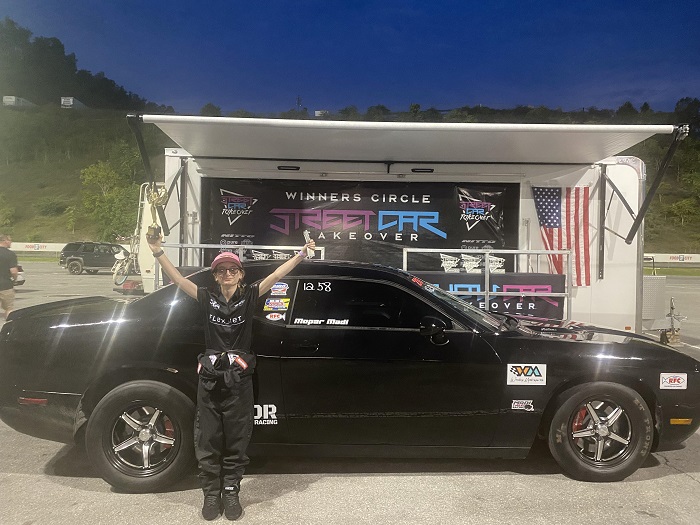 Prior to the Street Car Takeover event at Bristol Dragway, Turley's Dodge Challenger R/T had been having some tuning and general mechanical issues, so she first took it to Ryan Green with Part Time Auto in Crossville, Tennessee. Green squeezed Madi's Dodge into his packed schedule to help get her back running her best, installing a new Competition Cam camshaft that is just a touch spicier than stock, along with new lifters and valve springs. The Turley Challenger R/T was then shipped to to Mass Acceleration Motorsports in Denver, North Carolina, where John and Gee got her Mopar muscle car running right, providing a fresh tune with HP Tuners software.
Madi's mother, Kennetha, had this to say about the team at Mass Acceleration and the overall effort to get the Team Turley Challenger back in racing form:
"They are a great bunch of eggs and made us feel at home. Their whole crew is amazing! Within a couple weeks Mass had it figured out. So this was a breath of fresh air. David Davies was essential in the new setup on the car too."
Before the new cam and tune, Turley's Challenger made 336.12 horsepower at the wheels and after, the number jumped to 415.68 horsepower at the wheels, with 417.72 lb-ft of torque. Those are solid numbers from a 5.7-liter Hemi with 112,000 miles on the odometer, and this extra power led to a new personal best quarter mile trap speed of 112.79 miles per hour (her previous PB was 108). She dialed a 12.58 for the whole event and consistently ran in the 12.60s, which when coupled with strong reaction times, led to a series of round wins.
In the first round, she beat a modified Jeep Grand Cherokee Trackhawk (that won the roll racing class) and in the second round, she beat a 10-second Cadillac CTS-V Coupe. In the final round, she beat a supercharged Holden Commodore (possibly a Chevy SS with Aussie badging) that is another 10-second car, so in racing to the win, Madi Turley and her naturally aspirated Challenger R/T beat a supercharged Jeep, a supercharged Cadillac and a supercharged Holden (Chevy).
"There are no words for how I'm feeling about my first win and I give God all of the glory. This was so special to me winning at Bristol," said Madi Turley. "Bristol is where I got my first NHRA license and that night raced my first ever race and came in second. Bristol is my home 1/4 mile track and will always be special to me. All I know is this will push me harder to win more for myself, my team, DH Davies Racing and all of my sponsors."
If you are not familiar with the incredible story of Madi Turley and how she has stormed onto the racing scene at a younger age than most kids start driving these days, click here for more from Dodge Garage.
Madi Turley, her family and her whole racing team want to give a huge thanks to Sophie Fox for putting on the Women & Wheels class at the Street Car Takeover.