Last week, we broke the news that a new GME (Global Medium Engine) based turbo inline six would be debuting in the next Dodge Challenger, body code LB. Today, we'll put some meat onto the bones of those stories, but keep in mind this is more of a review than breaking new ground.
The engine first surfaced over three years ago, when Allpar broke the news of a new in-line six, code-named Tornado—just like the classic Kaiser-Jeep Tornado engine. Officially, or at least semi-officially, because officially nobody will confirm the existence of a new in-line six, the naming is just a coincidence; Daimler/Fiat Chrysler has been naming new engines after airplanes for quite some time, and the Tornado, like the Hurricane, Apache, and so on, is also an aircraft. But we can trust Hemmings or Allpar to bring you to speed on the classic engine, so let's press on.
The inline six was engineered to fit into tight spaces; it's not just a Hurricane, sorry, GME four-cylinder with two more cylinders added on. One reason for the long time getting this engine into production was trying to keep it as small as possible in length, and we've been told it's only slightly longer than the WGE 2.4 four-cylinder. To get there, Chrysler's old and reliable iron cylinder liners had to be replaced by another process (Comau's SmartSpray cylinder hardening process is one possibility, but not the most likely). It's worth mentioning that saving space is not just needed to fit the engine into vehicles not originally designed for it, such as the Wrangler; it's also handy to keep the crankshaft as short as possible, especially if higher-performance variants are desired.
The target horsepower was in the 400 range, but there are many constraints, so don't be too disappointed if the new engine is more like 370 horsepower; regardless, it's likely to have a wider peak torque band than the current 5.7 Hemi. Over time, the GME T6 is likely to replace the 5.7 Hemi, because of its superior power characteristics and higher fuel economy.
This engine would be a boon for Alfa Romeo, DS, and other Stellantis brands as well as Dodge, Jeep, Ram, and Chrysler, because straight sixes have become common in German cars, featured by BMW and Mercedes, among others. It would also likely have higher output or efficiency, at much lower cost, than current Maserati V6 engines, one of which is based on the Chrysler Pentastar and the other on a Ferrari design (both were developed by Ferrari), and as a GME engine, was engineered with turbocharging and hybrid applications in mind. If Alfa Romeo, Maserati, and the like do use the turbo six, their version may well have a different block, heads, fuel injection system, and so on.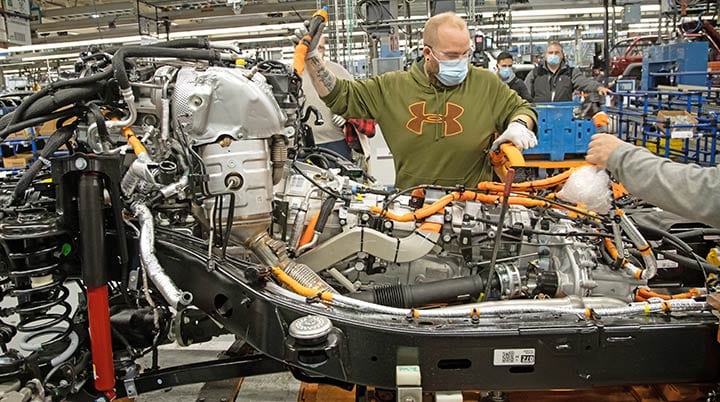 What else can we expect in the turbo six? Since it's a GME design, the actual combustion chambers should be nearly identical to the 2.0 liter engine, with the same head design, fuel injection, and such. The turbo 2.0, in the Wrangler, produces 270 horsepower and 295 pound-feet of torque, with a 5,800 rpm redline and 10:1 compression, running on premium fuel (87 works via knock sensors) and assisted by electric motors. As a result, we would expect the 3.0 to be torque-biased. The 2.0 easily outruns the Pentastar in the Wrangler, too, so we might expect the 3.0 to outrace a 5.7 V8 in the Challenger, even if the Challenger is (a) available and (b) boasting more horsepower, albeit with lower torque. Fuel economy is not likely to challenge a Prius, but should be better than the V8.
Timing is to be driven by chains, with dual overhead cams on independent timing systems; expect 24 valves and direct injection, with cooled and throttled EGR. Heads and blocks are both to be aluminum. If a mild hybrid is made, it should be an advanced belt-starter-generator design. The turbocharger will probably be a low-inertia twin-scroll design with electronic wastegate actuation. Expect the intake air cooler, throttle body, and turbocharger to be on a separate cooling circuit.
Now that the word is out, more information is likely to arrive fairly soon—even if there's a bit of a wait for the engines to appear in showrooms.