AJ Berge is best known to many members of the Mopar community as one of the leading authorities on modern Hemi tuning. He was one of the first people to figure out how to successfully tune the modern Hemi engine and over the past 15+ years, he has had a hand in tuning many of the quickest privately owned Mopars in the world. Of course, he also has done a ton of racing with his own cars, including his 2006 Dodge Charger – which was the first modern Charger to run a 7-second quarter mile.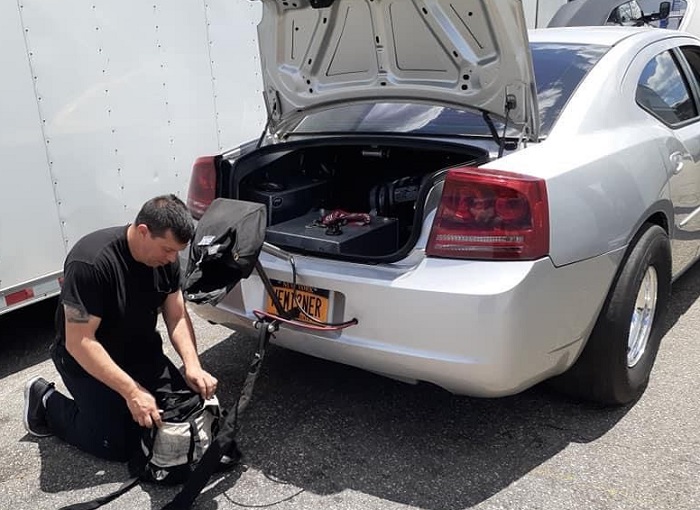 What fewer people may know about the man behind Hemituner Performance is that he is currently Crew Chief of the Factory Stock Showdown program for Don Schumacher Racing. Berge joined DSR last year and helped Leah Pruett, Mark Pawuk and David Davies run big numbers through the end of the FSS schedule and for 2022, the DSR FSS lineup looks a little different.
I had a chance to talk to AJ Berge and he provided some details on the upcoming 2022 NHRA FSS season.
3 Don Schumacher Racing Challenger Drag Paks
As you may know, Pruett has left DSR to drive for her husband's new NHRA team – Tony Stewart Racing. It seems that she will not be running FSS with TSR, at least not at first, but she is still sponsored by Dodge. However, Warren Welcher has joined DSR for 2022, joining Mark Pawuk and David Davies to complete another three-car lineup in FSS. Berge said that with fellow Crew Chief Kevin Helms, the two will work to guide all three teams towards a championship for Don Schumacher Racing.
For those who aren't familiar with the structure of the Factory Stock Showdown, the drivers join the team with their own car. In joining DSR, Welcher isn't stepping into the car that Leah Pruett drove last year. He will drive his own Challenger Drag Pak, serial #23, but it will feature a DSR powertrain and of course, he will have the help of Berge and the rest of the DSR team to battle for the title.
"In the end I feel Kevin and I have a good recipe to run with the Best Camaros and CJ's," said Berge. "This racing is tough and the competition I am certain has been working just as hard as we have to make sure they stay at the top!"
The image towards the top of the piece showing the front of Davies' Drag Pak also shows the back of Pawuk's car with the current livery while Welcher's Challenger is shown with the orange stripes. The images of Pawuk's Dodge race car with the dark Empaco livery with pink stripes are from earlier last season. If you want to check out a ton more awesome action shots of Davies's Drag Pak, click here for the photo page of his racing website.
Drag Pak Running 7.60s?
Prior to talk to Berge, there were pictures of a timeslip being shared around social media with an elapsed time of 7.67 and rumors that it was recorded by Mark Pawuk's Challenger Drag Pak. That is a pretty quick elapsed time for an FSS car, so I asked Berge about that slip. He confirmed that one of their cars did run a 7.67 in testing, but that number was run in "conditions that we likely won't ever see during our race season".
In other words, they are laying down some monster numbers in testing, but Mopar racing fans shouldn't expect the DSR FSS Challenger teams to all be running 7.60s at every event. However, we can expect to see them atop the field throughout much of the season.
AJ Berge's Drag Pak
In addition to being responsible for the three DSR FSS teams, AJ Berge has a new Dodge Challenger Drag Pak of his own. It is car #24, shown here in Direct Connection livery on the shop lift and he calls it his "secret weapon".
I asked him if that car would be involved in the Factory Stock Showdown action and while the short answer is "no", his Challenger will play a key role in the continued progress of the DSR team cars.
"I plan on testing a bunch at Cecil County Dragway where I am on my second year of sponsorship of the Outlaw Street Car series 8.50 class. I also plan on some NHRA Divisonal races as well as NMCA Races, all schedule-dependent. Like in years past when I worked for Arrington Performance, this car will be the ultimate test bed for my ideas so I can continue gaining additional experience on and off the track. It is always nerve-racking to try stuff when you are using other people's equipment. With my own car I can apply some things Kevin and I may want to try, without the pressure of possibly wasting a run at an event.

I started running my car last October and now come January I am able to share some of what we learned, which has translated to some good runs during testing. I don't consider my car a team car, rather just a simulator for me to practice with. My role on the team is that of a Crew Chief; it's the type of job that you never are off the clock. My focus is on our drivers, but I love the fact that I can strap in and experience what our drivers do. It helps me communicate better with them and grow. I am very proud to be working for DSR, its been an amazing opportunity so far!"
Needless to say, we will be providing updates of the Dodge teams in the NHRA Factory Stock Showdown, but with our coverage of the Modern Street Hemi Shootout and other modern Mopar racing action, AJ Berge is a name that will continue to pop up often here on Stellpower.