Earlier this month, we reported on a hint from Chrysler that we could see a long wheelbase Wagoneer—the air conditioning sticker, of all things, sent in by reader Matt K.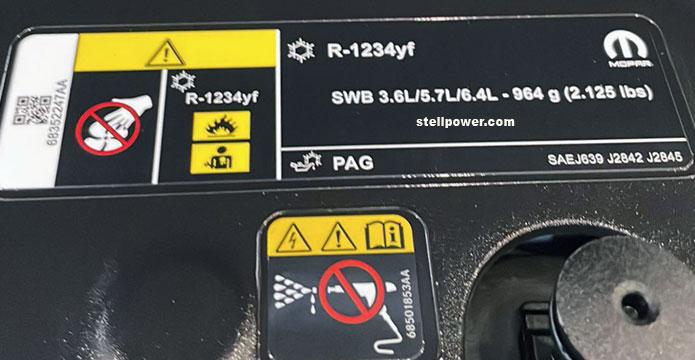 The list of engines here is clearly preceded by "SWB," which almost invariably means "short wheelbase." After checking the label's part number just to be sure, we considered several possibilities:
The Wagoneer was originally meant to have a long wheelbase option, so perhaps the Grand Wagoneer was originally to be larger than the Wagoneer.
Perhaps a Wagoneer L is planned.
The long wheelbase version might be the Durango.
The parts people assumed Ram would also use the same sticker.
The sticker designer was covering every possible option other than a turbo four or inline six.
Given that Autoblog and others have seen a long wheelbase Wagoneer being tested, it does seem as though Option #2 is the winner. (This doesn't rule out #3, since we could be seeing a Jeep mule, but it makes more sense to have a Wagoneer L.)
While Matt's friends at the Warren plant reported that no prototype long wheelbase Wagoneers have been made, that's only true for Warren itself; the Chrysler Technology Center has a miniature factory setup which can prototype new vehicles using soft tooling.
We're still hoping that, instead of Wagoneer L, it will be called Super Wagoneer… and Super Grand Wagoneer. Gran Wagoneer won't work on the upper-trim model for obvious reasons. Or will it?
The original Grand Wagoneer and Grand Cherokee
The first Grand Wagoneer was the 1984 model; Jeep decided to sell the highest-trim version of the Cherokee as the Wagoneer, and created the Grand Wagoneer name for its old, original big SUV. The Grand Wagoneer name continued to the very last "SJ." For 2022, the Grand Wagoneer is a version of the Wagoneer with more luxury and the 392 engine.
For more amusing Jeep hijinks, see the exciting book Wagoneer, Gladiator, Comanche, and Scrambler: Jeep's Go-Anywhere Vehicles.