We talked about the STLA Large platform last week—but what of STLA Frame?
The Jeep Wrangler and Gladiator are body-on-frame, but it's hard to see how they fit into the grand scheme of things. The main focus of STLA Frame is the Ram pickup trucks and Jeep Wagoneer, which will be set up with both electrified (hybrid) and battery-electric (BEV) versions.
Hurricane engines are likely going to be the mainstay of the next-generation Ram trucks; they already outperform the 5.7L Hemi V8 and even the standard output version is in the same ballpark as the Raptor's High Output 3.5L Ecoboost, which produces around 450hp and 500lb-ft of torque.
With the electric full-size pickup segment heating up, Ram will need to produce a pickup that encompasses all that it already is, and then some. Rivian's R1T produces 835hp and 908lb-ft of torque; Chevrolet's unimaginatively-named Silverado EV will follow with 660hp and 780lb-ft of torque, and Ford brings up the rear with the F-150 Lightning's 580hp and 775lb-ft of torque.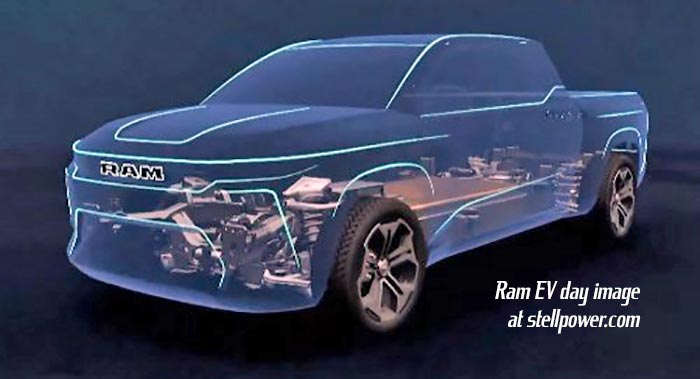 The Wagoneer S concept's targeted 600 hp puts it squarely between GM and Ford, but Ram's stated goal is to surpass existing BEVs (though their goal probably excludes the expensive, limited-production Rivian, as well as the six-figure electric GMC Hummer). It would be interesting to see Ram compete with the Hummer with an STLA Frame offering, which brings about the hope for the return of a Ramcharger, but let's go back to the facts. (To be clear, the Wagoneer S is a unibody design on STLA Large—unlike the regular Wagoneer, which is a body-on-frame design created from the Ram 1500.)
The Jeep 4xe presentation revealed that a 4xe version of the Grand Wagoneer is coming; whether it will be a hybrid version of the GME-T6 engine or not remains to be revealed, but since the current Grand Cherokee 4xe is a hybrid it would make sense that the Grand Wagoneer 4xe would be a hybrid variant of the Hurricane-6 powertrain. Jeep is unlikely to make a Grand Wagoneer which is considerably slower than the lighter Grand Cherokee.
Regardless, it seems likely that Ram will make both battery-electric and conventional versions of their pickups, and that the Wagoneer series will have similar choices. Whether the BEV has a unique chassis remains to be seen, but it seems unlikely at the moment; there are clear advantages to having a unibody car with a unique battery-electric version, but for a body-on-frame vehicle it seems that would be an unnecessary expense.
What remains to be seen is how the company will deal with the Wrangler (and perhaps the Gladiator). One can speculate that it will continue on its current platform, or even move to a new generation, without ever coming near STLA Frame or any other corporate shared platform. It's quite possible that the company is adopting a wait-and-see with regard to the new Recon, which is unibody but quite possibly still very capable. Rivian's R1S showed that a battery-electric can have stunning offroad capabilities without a body-on-frame design. The R1S is quite expensive, but then, so are most Wrangler configurations.
So there we have it. This is what has been laid out on the table for the near future. We can expect to see what all actually comes from the brand in the upcoming months, but this is a pretty good road map of what to expect.