Guest Opinion. While many are reluctantly sounding approval of the sound of the second version of the Charger Banshee Concept's Fratzonic chamber, I love it. It is a major step in the right direction, making it sound like there is something living and breathing within this vehicle.
Many video reviews call it "fake" sound; but Dodge took the sound of the motors, tuned the frequency, and pushed it through a resonating system (electronically amplified) to create the sound. The concept is no different from aftermarket mufflers. Some companies make speaker systems with downloadable V8 sound tracks, but Stellantis did something different—using the EV motors' actual sound. Not to get into a long-drawn-out debate about real or fake sound, something else lurks beneath the surface of the waters at Dodge.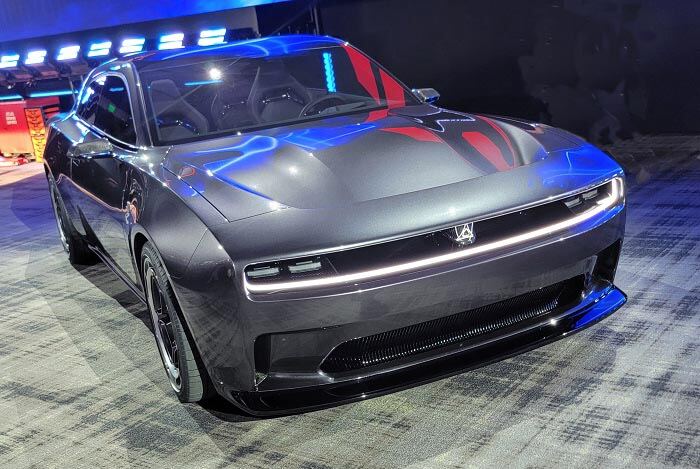 I've been scouring the internet and trying to find any further information on this car. 2024 is less than a year away, yet there isn't much solid info, not counting a few potential power numbers for the 340 and 440 trim levels and their Stage package.  One thing that I've really caught in several videos, which isn't really new but worth mentioning, is that this isn't the final design of the car and that while several aspects of the car will be present on it, this isn't the production model.
We will probably see a variation of the R-wing, the Fratzonic, and some aspects of the wheels and interior and hatchback design. The steering wheel has paddle shifters, along with that "push to pass" button, which is similar to the V button on the Cadillac V cars. Paddle shifters don't really seem useful on a two-speed car. Two-speed transmissions for EVs are a thing, so I don't see a reason for Dodge to be secretive about having one in this car. If Dodge is making a big fuss about a unique powertrain system, it could very well be some sort of CVT, which has multiple-speeds (multi-speeds not multi-gears) and would definitely help the car not only be more efficient (increasing highway range), but also be competitive when going up against the likes of a Tesla Plaid. While some sources say that the Mopar EV might weigh less than a Tesla, the Plaid has a lead on what most people estimate the top-tier Charger to have, which is currently around 880hp.
Personally, I believe they're going to have a crazy 1320 version which not only would be a Demon-like, strip oriented street-legal drag pack designed to dominate the 1320 (quarter mile) but also have 1,320hp, which would be unlocked in full race mode. For that kind of car to have a 2-speed transmission would make sense. While most people with a car of that power aren't concerned about range (gas mileage), they do care about getting down the strip as fast as possible. I suspect it would be a street-legal race car, gutted of all weight adding materials, that can still fit four people comfortably with optional rear seats—and perhaps have an optional or standard roll cage to avoid an NHTSA ban.
One of the videos I watched today really showed off a lot of the concept car's interior and its cargo capacity. The production car probably will not have that full console; but even as a five-seater, the rear seats can fold flat for more storage. It seems to have at least as much space as the Hyundai Santa Fe Sport. It will be versatile.
Stellantis recently revealed another EV that was more radical in its concept form than its production form—the Ram 1500 REV. The pre-production REV pickup looks fairly mundane next to its futuristic-looking concept. While the Banshee concept looks retro and futuristic, many of the interior and exterior features will probably not make it to production. Hub lock wheels, interior door panels without handles, the headlamp design, full length interior console, two-doors, and certain other things probably won't see production.
Two-door coupes are becoming rare; having four doors makes more sense. The Charger could very well come out as a four-door coupe with a rear glass shape more in line with the '68-'70 Charger and a properly recessed rear glass with flying buttresses that would hide the hatchback design even more. While there are several things I'm hoping to see on the final design of this car. I'm impressed with what I see so far and I'm very hopeful that this car will be a huge hit. It's certainly changing my few on what an EV can be and honestly, I am truly now considering one of these (price pending) as my next Charger. Kudos Stellantis!