Last month, we introduced you to the Xtreme Recon package for the Jeep Wrangler, which gives the legendary SUV the best off-road specs in the segment. At the ongoing Chicago Auto Show, the price of the Xtreme Recon package was part of the Jeep news onslaught.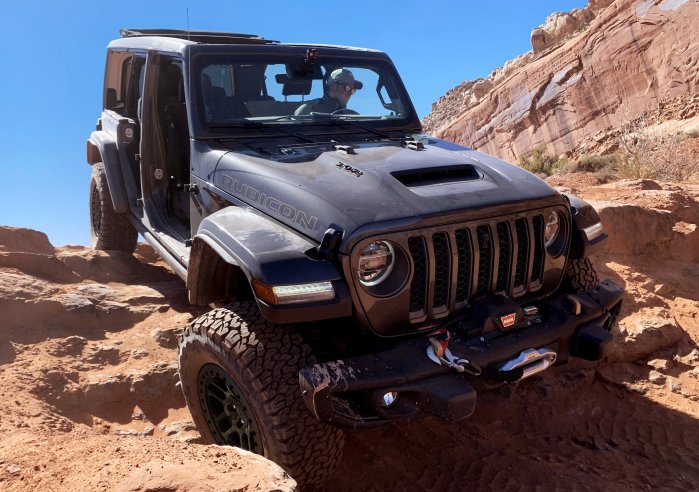 Giving your new Jeep Wrangler the best approach angle, departure angle, ground clearance and water fording capabilities in the segment will cost you $3,995. That is a pretty reasonable number for a lift kit engineered by the same people who created the vehicle along with beadlock wheels, 35-inch tires and a 4.56 gear.
"As an icon built around 80 years of unmatched 4×4 capability, the Wrangler has always pushed the limit of what a Jeep can do off road, and the new Xtreme Recon Package with 35-inch tires straight from the factory pushes that limit even further," said Jim Morrison, Vice President, Jeep Brand North America. "While the Xtreme Recon Package sets the benchmark for 4×4 capability, the easy-to-use Sunrider Flip Top for Hardtop fortifies Wrangler's open-air spirit."
Xtreme Recon Wrangler
In case you missed the original piece announcing the new Xtreme Recon package, it is available for the Wrangler Rubicon Unlimited with the 3.6-liter eTorque hybrid drivetrain or the Rubicon 392 with the 470-horsepower V8. The package adds 35-inch (LT315/70R17C) BFGoodrich KO2 all-terrain tires on 17-by-8-inch beadlock wheels, 4.56 axle ratio, a 1.5-inch suspension lift with shocks tuned for the new ride height and a rear swing gate reinforcement.
This combination of suspension and tire changes give the Wrangler Rubicon with the Xtreme Recon package the best off-road specs in the segment. This includes an approach angle of 47.4 degrees, a breakover angle of 26.7 degrees, a departure angle of 40.4 degrees, 12.9 inches of ground clearance and the ability to safely cross water that is 33.6 inches deep.
Also, while Jeep will offer a 4.88 gear package for the Wrangler Rubicon with the 3.6-liter V6 later this year. Vehicles equipped with that gear set and the 6-speed manual transmission will enjoy a crawl ratio of 100:1.
In the meantime, the Wrangler Rubicon with the Xtreme Recon package offers better off-road numbers than the Ford Bronco with the Sasquatch package. In the case of the Wrangler Rubicon 392, paying $3,995 for the lift and tires is hardly noticeable on the hefty price tag, so anyone buying the V8 package to go off-roading will likely want to check the box for the Xtreme Recon package.
Click here for a look at our review of the Jeep Wrangler Rubicon 392.