Volkswagen sales shot up by 40% over the last month, from 165,820 in 2021 to 232,024 in 2022, giving the company a 25.5% market share—up from 20.8%.
Meanwhile, Stellantis sales dropped by 1.8%, from 165,967 to 163,012, falling across its top three major brands—Peugeot, Opel, and Fiat. Citroën, which rose by 2.5%, was within 150 sales of Fiat. Peugeot dropped by 6%, Opel/Vauxhall by 4%, and Fiat by 8%.
Jeep dropped by 4%, from 7,895 to 7,557 sales. The other premium brands—DS, Lancia, and Alfa Romeo—all rose, by 37%, 22%, and 84%, respectively. the top seller of these three, though, was DS with 4,331 sales. Alfa had 3,421.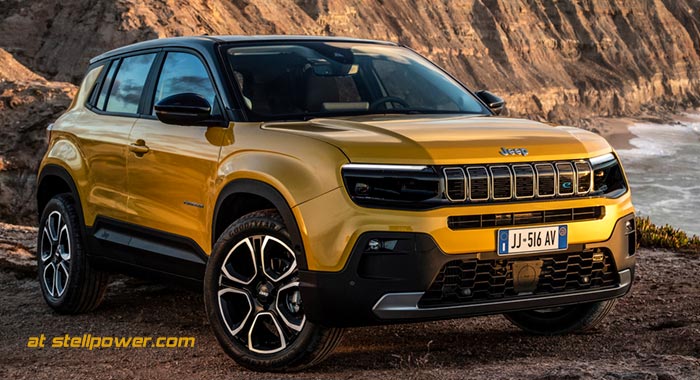 The new Avenger may rescue Jeep's flagging European sales
Hyundai dropped even more (5%), while Renault rose by 2%. Toyota, with a 7.5% market share, rose by 42%; BMW rose by 6%; Mercedes fell by 3%; and Ford rose by 37%. No other brand had a market share over 2.5%.
Year to date, Volkswagen's share is still below its 2021 number of 25.6%; the company lost 11% in sales, with all brands but Porsche and luxury-exotics falling. Stellantis is down by 15%, year-to-date, with market share falling from 20.4% to 18.8%. Every Stellantis brand but DS and Alfa Romeo fell, with Jeep taking the worst hit (down 26%), followed by Fiat (down 20%). The company's lead brand, Peugeot, dropped by 14%.
Also looking year to date, Hyundai made greater inroads, rising by 5%, while Renault dropped by about the same amount; Toyota rose a little (2%) while BMW, Mercedes, and Ford all fell (9%, 6%, and 5%, respectively).
Much of the variation in sales is due to production shortfalls, rather than customer preferences.